Why Choose Patterson-Schwartz To Sell Your Home?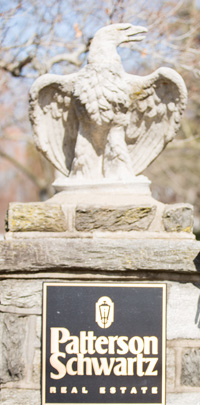 Selecting a real estate company to work with you on the sale of your home may seem a bit overwhelming. To help make the choice easier, we've outlined the key to why you should list your home with Patterson-Schwartz:
The Best Sales Associates in the Industry
At Patterson-Schwartz our team of over 400 professional Sales Associates is our greatest asset. We attract the most professional and knowledgeable Sales Associates because of our commitment to providing superior training and coaching, creative marketing programs and sophisticated technology tools. This means that you will have the very best agent working for you.
A Commitment to Exceeding Your Expectations
Uncompromising client service is our mantra! So much so that we survey every buyer and seller upon closing of their transaction and ask for their feedback. To give you an idea of how much we value this input, Charlie Schwartz, one of our owners, makes this his personal priority. All surveys are returned directly to his office and acted upon. Last year, we met or exceeded our client's expectations 98.5% of the time.
The Market Leader
For many decades we have been the area's dominant market leader – a tribute to the quality and character of our Sales Associates, employees and management team. In fact, one in three families who buy or sell a home in our market area will work with a Patterson-Schwartz Sales Associate.
A Company that Adapts to the Market Place
Keeping an eye on key real estate market indicators means we know the pulse of the market place. The local real estate market is forever changing and the needs of the real estate consumer are as well. The marketing plan that your Patterson-Schwartz Sales Associate will propose for your property will address both of these factors.
Our Value Proposition
At Patterson-Schwartz, we recognize that each property is unique and each owner's motivation for selling may be very different. Your Patterson-Schwartz Sales Associate will customize a marketing plan for your property so that it meets and hopefully exceeds your expectations. You can expect hands-on management of the sales process from Agreement of Sale, negotiation of Agreement, to troubleshooting and closing of the transaction. And, we believe so strongly in our value proposition that we offer the Patterson-Schwartz Promise which states that if at any time you are not satisfied with the expert guidance and service you receive, you may fire us with 24 hours' notice.
Marketing Expertise
With over 50 years of real estate experience, we know what brings homebuyers to your door. We constantly adjust our marketing initiatives to address where today's homebuyer looks for real estate information. Over the last several years, the Internet has become the leading source of information for prospective homebuyers - in fact, 89% of today's consumers used the Internet during their home search (National Association of REALTORS 2015). As a seller, you can be confident that your home will be exposed to the largest possible pool of potential buyers. Our integrated marketing program effectively combines print, online, mobile and social media channels to your advantage.
Exceptional Technology
Technology is a strategic advantage in every facet of our business. It has provided our Sales Associates with the means to operate effectively and efficiently yet maintain the personal touch that you expect.
Powerful Connections
Patterson-Schwartz is a proud member of The Leading Real Estate Companies of the World, a prestigious global network of more than 128,000 professional real estate associates in over 55 countries. This affiliation enables us to expand our reach to provide everything from superior relocation services to international exposure for select Patterson-Schwartz luxury properties.
Fairway Independent Mortgage Corporation
In today's ever-changing financial market, Patterson-Schwartz knows the best sources for real estate financing. Our partnership with Fairway Independent Mortgage Corporation conveniently enables buyers to apply for a mortgage at any Patterson-Schwartz office. Prospective buyers of your home can even pre-qualify to make the sale as quick and easy as possible.